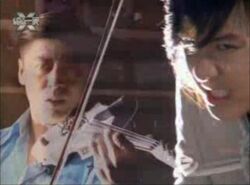 The 39th episode of the Zhong Ji series.
Episode Information
Edit
Series: The X-Family
Episode No. 18
Original Airdate: August 31, 2007
Previous Episode: Round 17
Next Episode: Round 19
With Ye Si Ren's identity revealed, Xia Xiong expresses her true feelings to prevent him from leaving. When things finally get back on track between the two lovers, Ye Si Ren discovers something disturbing about Han's background. Xia Tian begins to go on training with Xiu to control/suppress Gui Long.
External links
Edit
Ad blocker interference detected!
Wikia is a free-to-use site that makes money from advertising. We have a modified experience for viewers using ad blockers

Wikia is not accessible if you've made further modifications. Remove the custom ad blocker rule(s) and the page will load as expected.