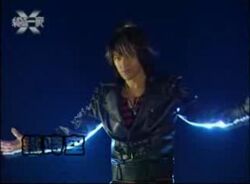 The 23th episode of the Zhong Ji series.
Episode Information
Edit
Series: The X-Family
Episode No. 02
Original Airdate August 09, 2007
Previous Episode: Round 1
Next Episode: Round 3
The Xia Lan Xing De family is attacked by a couple of strangers. Xiu's band, Dong Cheng Wei, perform at Xia Tian's father's pub. There, Xiu accidentally senses Xia Tian's special power. When Ren Chen Wen and Xia Tian encounter a gang, Xia Tian turns into Gui Long and attacks the gang, and then uses his power to attract young women.
External links
Edit
Ad blocker interference detected!
Wikia is a free-to-use site that makes money from advertising. We have a modified experience for viewers using ad blockers

Wikia is not accessible if you've made further modifications. Remove the custom ad blocker rule(s) and the page will load as expected.