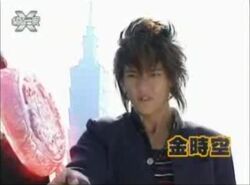 The 46th episode of the Zhong Ji series.
Episode Information
Edit
Series: The X-Family
Episode No. 25
Original Airdate: September 11, 2007
Previous Episode: Round 24
Next Episode: Round 26
Lan Ling Wang challenges Xia Tian a duel to reclaim the two melodies. Xiu borrows Da Dong's weapon to Xia Tian to double his chances against Lan Ling Wang's power. Before the battle can start, Lan Ling Wang's servant rushes to him and tells him that his family has been captured. Ye Si Ren gives Lan Ling Wang the melodies so he could use them to trade for his family.
External links
Edit
Ad blocker interference detected!
Wikia is a free-to-use site that makes money from advertising. We have a modified experience for viewers using ad blockers

Wikia is not accessible if you've made further modifications. Remove the custom ad blocker rule(s) and the page will load as expected.