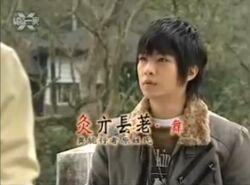 The 51th episode of the
Zhong Ji
series.
Episode Information
Edit
Series: The X-Family
Episode No. 30
Original Airdate: September 18, 2007
Previous Episode: Round 29
Next Episode: Round 31
Jiu Wu visits the Xia Lan Xing De family and immediately becomes friends with them. Meanwhile, enjoying a "nice" dinner, a demonic lord comes to take Lan Ling Wang, but Jiu Wu and Xia Tian manage to chase him away. When Jiu Wu meets the band Dong Cheng Wei, Xiu finds out that Jiu Wu is the alternate counterpart of Xiao Yu. Xia Tian has a dream of Meng Zhu asking him to call out Gui Long to hit him 3 times, but Gui Long manages to knock him out with only two hits.
External links
Edit
Ad blocker interference detected!
Wikia is a free-to-use site that makes money from advertising. We have a modified experience for viewers using ad blockers

Wikia is not accessible if you've made further modifications. Remove the custom ad blocker rule(s) and the page will load as expected.