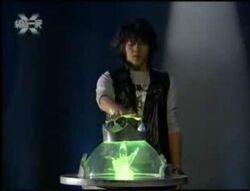 The 66th episode of the
Zhong Ji
series.
Episode Information
Edit
Series: The X-Family
Episode No. 45
Original Airdate: October 09, 2007
Previous Episode: Round 44
Next Episode: Round 46
The more Jiu Wu sleeps in the coffin, more of his male hormones are simulate. Ye Si Ren's father offers to help absorb the energy of the magical stone while possessing Xia Tian to use him as a shield. Because their options are running short, Xia Tian decides to take the offer. Ye Si Ren digs his way out of the Ye He Na La family's mark to warn his family about his father's master plan: to use him and Xia Tian to take over the world on the Extreme Day of Yin.
External links
Edit
Ad blocker interference detected!
Wikia is a free-to-use site that makes money from advertising. We have a modified experience for viewers using ad blockers

Wikia is not accessible if you've made further modifications. Remove the custom ad blocker rule(s) and the page will load as expected.