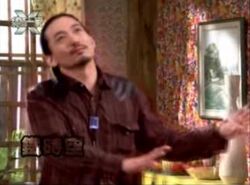 The 27th episode of the Zhong Ji series.
Episode Information
Edit
Series: The X-Family
Episode No. 06
Original Airdate August 15, 2007
Previous Episode: Round 5
Next Episode: Round 7
Vincent reveals his true identity as a demonic power-user and attacks the Xia Family. He fails to attack them and gets defeated by Xiu's controlling spell. To thank Xiu for saving their family, Xia Xiong invites Xiu and his friend A Chord over for dinner. She also asks Xiu to not train Xia Tian to advance his powers, even though he has a future of becoming Ultimate Iron Man.
External links
Edit
Ad blocker interference detected!
Wikia is a free-to-use site that makes money from advertising. We have a modified experience for viewers using ad blockers

Wikia is not accessible if you've made further modifications. Remove the custom ad blocker rule(s) and the page will load as expected.