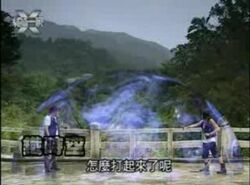 The 29th episode of the Zhong Ji series.
Episode Information
Edit
Series: The X-Family
Episode No. 08
Original Airdate August 17, 2007
Previous Episode: Round 7
Next Episode: Round 9
Xia Tian offers Han, his dream girl, a room to rent in their house and on several occasions tries to re-connect with her, but she keeps blowing him off. When Xiu and Han meet, they start to fight, but were stopped by Xia Xiong. Later, they fight again and Xia Tian tries to stop them by running into the middle of the battle and ends up getting himself hurt.
External links
Edit
Ad blocker interference detected!
Wikia is a free-to-use site that makes money from advertising. We have a modified experience for viewers using ad blockers

Wikia is not accessible if you've made further modifications. Remove the custom ad blocker rule(s) and the page will load as expected.