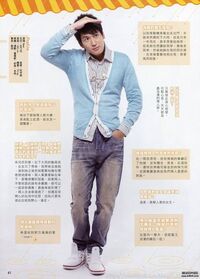 Name: 李紹祥 / Li Shao Xiang
Also known as: 邵翔 / Shao Xiang
English Name: Sean
Occupation: Actor / Model / Singer
Birthdate: 1982 April 07
Birthplace: Taiwan
Height: 184cm
Weight: 70kg
Horoscope: Aries
Blood type: B
Shao Xiang (Li Shao Xiang / 李紹祥) portrays the role of Ma Chao in K.O.3an Guo.
He started his career as a model for Men's Uno, and later pursued to becoming an actor, and finally a singer of Wu Hu Jiang.
Filmography
Edit
Televisions
Edit
2004
Say Yes Enterprise - Huang Xiao Jun (黃小俊)
2005
It Started With A Kiss - Zhang Wu Ren (張武仁)
2007
2009
2011
Sunshine Angel (陽光天使) - Ai Ying Shan (艾英善)
Xuan Feng Guan Jia - Ju Xuan 鞠宣
2007
Shen Gui Gao Xiao (神鬼高校) - Mai Mao (麥基)
Likes playing cards, sports, fishing, open activity and singing.
Participated in Nylon Chen's music video, Paradise.
Ad blocker interference detected!
Wikia is a free-to-use site that makes money from advertising. We have a modified experience for viewers using ad blockers

Wikia is not accessible if you've made further modifications. Remove the custom ad blocker rule(s) and the page will load as expected.