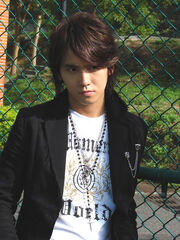 Shu Chen (true name "Chen De Xiu"), also known as "Shumetheny", is the leader and main guitarist of the underground music band Dong Cheng Wei. He and Fahrenheit's Jiro Wang founded the band in their high school years.
He was the actor of character Xiu: the character's title is actually referenced by his idol title.
Name: 陳德脩 / Chen De Xiu
English name: Shu Chen
Also known as: 脩 (Xiu)
Profession: Guitarist, actor
Birthdate: 1982-Jul-15
Birthplace: Taiwan
Height: 176cm
Weight: 60kg
Star sign: Cancer
Blood type: A
Music group: Dong Cheng Wei (Traditional:東城衛/Simplified:东城卫) / Red Generation
Filmography
Edit
Shu is little brother to Michael Chen, who plays Jie in the series.
External links
Edit
Ad blocker interference detected!
Wikia is a free-to-use site that makes money from advertising. We have a modified experience for viewers using ad blockers

Wikia is not accessible if you've made further modifications. Remove the custom ad blocker rule(s) and the page will load as expected.