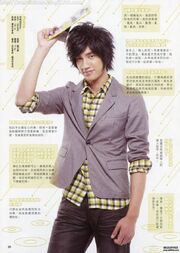 True name: Luo Hong Zheng (羅弘証)
English name: Wes
Birthdate: July 26, 1989
Birthplace: Taiwan
Occupation: Actor / singer / model
Height: 186cm
Weight: 75kg
Horoscopic sign: Leo
Talent agency: Comic International Productions Co., Ltd. 可米製作
Group: Wu Hu Jiang, SpeXial
Biography
Edit
Si Wei Hong Zheng (寺唯宏正) is the portrayer of Huang Zhong in K.O.3an Guo.
He became a member of music band, Wu Hu Jiang in 2009. Hong Zheng enjoys performing magic tricks.
Currently the leader of the pop music group SpeXial
Leg Injury
Edit
On November, 2009, Si Wei Hong Zheng, along with the rest of Wu Hu Jiang were arranged to travel to Tokyo, Japan, for their concert. On November 3, Hong Zheng got into a serious accident when his bycicle hit a person and was sent to the hospital for medical treatment. With him unable to perform, his teammates were forced to renew their dances for the performance. His leg is currently recovering nicely.[1]
Filmography
Edit
Gloomy Salad Days as Ah Jie (阿杰)
Love Buffet as Male Diner
Likes magic tricks
Participated in Nylon Chen's music video, Paradise.
References
Edit
External Links
Edit
Ad blocker interference detected!
Wikia is a free-to-use site that makes money from advertising. We have a modified experience for viewers using ad blockers

Wikia is not accessible if you've made further modifications. Remove the custom ad blocker rule(s) and the page will load as expected.