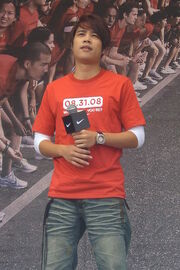 TANK
is a composer and singer who has given his music to make soundtracks for a number of Taiwanese series.
Tank (born February 6, 1982) is the stage name of Taiwanese singer-songwriter Lǚ Jiàn Zhōng. Tank is currently signed to HIM International Music. Tank's debut album, Fighting 生存之道 (Fighting, The Law of Surviving) was released on February 23, 2006. His latest album, "The 3rd Round", was released on May 31, 2009.
Biography
Edit
Tank was born in Taitung, Taiwan. He is a native Taiwanese. His father is from the Ami people, while his mother is Puyuma.[1] Before releasing his debut album, Tank helped write songs for Vic Chou and S.H.E, among many other artists. He wrote the music and lyrics for track "我讓你走了" (Letting You Go), which was released by Taiwnese artist Wilber Pan in his third album Wu Ha. By the age of 21, he was already recognized for composing more than 200 songs. He was said to be the next big thing after David Tao and Jay Chou for his talents in composing songs, singing and dancing.
Two songs he composed, "Romance of Three Kingdoms" (三國戀) and "Give Me Your Love" (給我你的愛), became ending themes of Seven Swordsmen (七劍下天山) and KO One (終極一班) respectively. Another song, "Tears of a Thousand Years" (千年淚), was used as an ending theme for the drama serial The Little Fairy (天外飛仙). His second album Keep fighting (延長比賽; Keep fighting, The Extended Battle) was released on 19 January 2007. "Personal Angel" (專屬天使) was used for an ending theme of Hanazakarino Kimitachihe, a romantic comedy series. He was later requested by NCsoft to compose the theme song for the computer game, Guild Wars. "Intense Battle" (激戰) became the theme song for that game.[2] In 2007, he recorded a song with his junior, Yoga Lin of Xing Guang Bang, for the idol series Bull Fighting (鬥牛 · 要不要) with the same name.[3]
Ad blocker interference detected!
Wikia is a free-to-use site that makes money from advertising. We have a modified experience for viewers using ad blockers

Wikia is not accessible if you've made further modifications. Remove the custom ad blocker rule(s) and the page will load as expected.