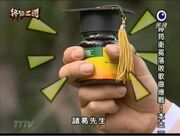 Chinese: 天雞不可洩霧
Pronunciation:

Tian Ji Bu Ke Xie Lou Lu
A potion invented by the chicken spirits to provide great intelligence to the drinker. It was given to Zhuge Liang by a commander chicken as a token of gratitude for protecting his chicken kind.
To make the potion work, the drinker must swallow it all to make the potion take complete effect.
Zhuge Liang drank most of the potion in 40th Round before he dropped the bottle, not long before a woman picked it up.
He found the remaining potion in the 42nd Round after he received a message in the toilet and swallowed it. However, for some reason, the potion had no effection whatsoever.
Ad blocker interference detected!
Wikia is a free-to-use site that makes money from advertising. We have a modified experience for viewers using ad blockers

Wikia is not accessible if you've made further modifications. Remove the custom ad blocker rule(s) and the page will load as expected.