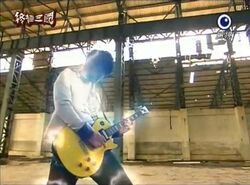 Chinese: 小黃蜂
Pronunciation: Xiao Huang Feng
The Tiny Bee is Xiu's weapon in the form of a yellow guitar.
He mainly uses it to create supernatural musical atmospheres and to transfer energy.
It first appears in K.O.3an Guo, 8th Round.
Xiu first mentions its name in 23rd Round.
The actual model of this guitar is "Gibson Les Paul Tak Matsumoto Canary Yellow"
Ad blocker interference detected!
Wikia is a free-to-use site that makes money from advertising. We have a modified experience for viewers using ad blockers

Wikia is not accessible if you've made further modifications. Remove the custom ad blocker rule(s) and the page will load as expected.