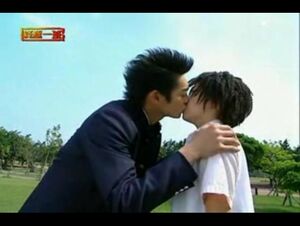 Wang Ya Se and Cai Wu Xiong are the second main couple in KO One. Their relationship takes place roughly after the end of Da Dong and An Qi's relationship.
Wu Xiong was taken away and raised by gorillas after the death of her parents. The gorilla tribe fed, trained and prepared her for the future by giving her the Bear Pearl; the tribe's most precious treasure, and letting her read The Golden Pen Touches the Dragon - a mysterious manga series that predicts all future events. While reading the series, she learned that her fate was to meet Wang Ya Se and become his future mate and save him from becoming a demon by using the Bear Pearl.
The Story
Edit
When Wu Xiong and her sister, Yun Han, first joined the Ultimate Class, her behavior and way of speaking was animal-like, which Ya Se found repulsive. She attempted to take Da Dong's place of leader for the class until Ya Se ordered her to sit down and behave. To everyone's surprise, she obeyed without question. She later asked for his name, and later requested to mate with him; this revelation became the laughing stock for the rest of the class and Ya Se's greatest humiliation.
For most of the time, Ya se repulsed Wu Xiong because of her behavior, even though she did him many favors. When the sword demon hidden inside his Sword in the Stone began to take over his mind and body, he became the target of Ji An: a powerful demon hunter. Wu Xiong jumped in to stop the bloodshed and kissed Ya Se. The Bear Pearl transferred into his body through the kiss and suppressed the sword demon inside of him. After this experience, Ya Se decided to treat her more nicely. Right after his decision, Wu Xiong approached with a new appearance: short hair and in a school uniform. She also learned to adapt human behavior and speak in human language. As they spent more time together, he began to see her "cute" side.
After a few days, she collapsed for no apparent reason. The doctors found out that she was aging rapidly now that her body lacked the Bear Pearl and only had one month to live. Ya Se asked Da Dong and Xiao Yu to try and knock the pearl out of his body, despite that he would be controlled by the demon and become Ji An's target once more. Their attempts failed.
Ya Se later found out that he could try to kiss Wu Xiong to transfer it back into her body, but it was not an easy task. The pearl was spiritual and only true love could persuade it to leave its owner's body.
After Ya Se's kiss proved failure, he declared Wu Xiong his girlfriend and tried to fall in love with her. Even after a few dates, he felt nothing. One morning, Wu Xiong's sister told him that her condition had worsened and she tried to hide from him. Ya Se immediately went to her side and told her that he did not mind if she looked older. In that instant, he felt completely helpless. She comforted him on this fact and thought to herself that she was content with the short yet wonderful time they had.
Near the end of the series, Ya Se found himself officially fallen in love with Wu Xiong and gave her a goodbye kiss, which transferred the Bear Pearl back into her body. They stayed together before and during the final battle against the antagonist Hei Long. While Ya Se allowed himself to be completely controlled by the sword demon, he never forgot his love to Wu Xiong. The battle triggered the Bear Pearl and Wu Xiong spit it out, causing a gigantic explosion on the battlefield that ended with all warriors, both good and evil, losing their powers.
There was no mention of how it turned out for Ya Se and Wu Xiong after KO One. However, it can be assumed that Wu Xiong died not long after the battle because she no longer had the Bear Pearl in her body.
Moments of Ya Se and Wu Xiong
Edit
Ad blocker interference detected!
Wikia is a free-to-use site that makes money from advertising. We have a modified experience for viewers using ad blockers

Wikia is not accessible if you've made further modifications. Remove the custom ad blocker rule(s) and the page will load as expected.