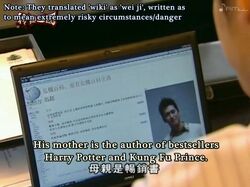 Chinese: 危機百科
Pronunciation: Wei Ji Bai Ke
A resourceful website that contains all sorts of information.
In K.O.3an Guo, the Five Tiger Generals mainly use it to gather information about kung fu, legends, locations and mythical creatures.
This is a parody of the website Wikipedia.
Ad blocker interference detected!
Wikia is a free-to-use site that makes money from advertising. We have a modified experience for viewers using ad blockers

Wikia is not accessible if you've made further modifications. Remove the custom ad blocker rule(s) and the page will load as expected.