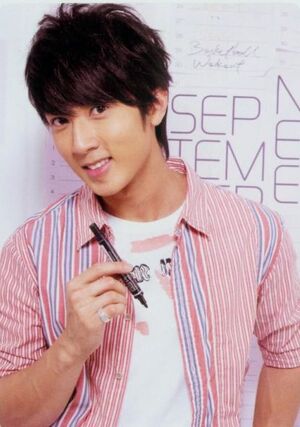 Wu Chun (traditional Chinese: 吳尊; simplified Chinese: 吴尊; pinyin: Wú Zūn), also referred to as Wu Zun, is a Brunei-born actor, singer, a former model, and gym instructor. He plays both Tian Hong Guang in KO One and the Fire Ambassador in The X-Family.
He is the only non-Taiwanese born member of the boy band Fahrenheit. As of June 2011, he has officially left Fahrenheit to focus more on his family and acting career.
He is also known for his roles in the Taiwanese idol dramas "Romantic Princess" (公主小妹), "Hanazakarino Kimitachihe" (花樣少年少女), "Hot Shot" (篮球火) and "Tokyo Juliet" (東方茱麗葉). He is also the host of the Weekend Splash concert season 5.
Name: 吳尊 / Wu Chun (Wu Zun)
Real name: 吳吉尊 / Goh Kiat Chun
Profession: Actor, singer, and model
Birthdate: 1979-Oct-10
Birthplace: Brunei
Height: 181cm
Weight: 73kg
Star sign: Libra
Blood type: O
Family members: Dad, older sister, older brother
Group: Fahrenheit
Talent agency: Comic International Productions Co., Ltd. 可米製作
Filmography
Edit
Television
Edit
2005
2006
Tokyo Juliet (東方茱麗葉) as Ji Feng Liang (纪风亮) (based on Akira Himemiya)
Hanazakarino Kimitachihe (花樣少年少女) as Zuo Yi Quan (左以泉) (based on Izumi Sano)
2007
2008
Hot Shot (籃球火) as Wu Ji Zun (無極尊)
2010
Sunshine Angel (陽光小妹) as Di Ya Xin
Absolute Boyfriend (絕對達令) as Night Tenjo
2009
Butterfly Lovers (武俠梁祝) as Liang Zong Shan (梁仲山)
2010
14 Blades (錦衣衛) as Judge of the Sands (大漠判官)
2011
External links
Edit
Ad blocker interference detected!
Wikia is a free-to-use site that makes money from advertising. We have a modified experience for viewers using ad blockers

Wikia is not accessible if you've made further modifications. Remove the custom ad blocker rule(s) and the page will load as expected.