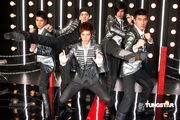 You may be looking for Five Tiger Generals...
Chinese: 武虎將
Pronunciation: Wu Hu Jiang
Wu Hu Jiang (武虎將) is a real-life music band formed in late 2008. Their name is a reference to the Five Tiger Generals (五虎將) in the series of K.O.3an Guo. It consists of five members, George Hu, Bo Yan, Benji, Shao Xiang and Si Wei Hong Zheng.
George Hu is the only member to maintain his stage name while most of his teammates have a change of name.
Bo Yan's departure
Edit
Sometime after Wu Hu Jiang was formed, Bo Yan was forced to leave the band for personal reasons, but remains a part of the cast.
Former members
Edit
Filmography
Edit
George Hu
Edit
Love Catcher as Mark (TTV, 2008)
K.O.3an Guo as Zhao Yun (FTV, 2009)
Black & White as Sarkozy G (PTS, 2009)
Shao Xiang
Edit
Say Yes Enterprise (TTV, 2004)
It Started With A Kiss as Zhang Wu Ren (CTV, 2005)
Wayward Kenting (PTS, 2007)
K.O.3an Guo as Ma Chao (GTV, 2009)
Si Wei Hong Zheng
Edit
原來我愛你 by Sara (2007)
冷戰 by Rainie Yang (2008)
思念是一種病 by Chang Chen-Yue (2007)
External links
Edit
Ad blocker interference detected!
Wikia is a free-to-use site that makes money from advertising. We have a modified experience for viewers using ad blockers

Wikia is not accessible if you've made further modifications. Remove the custom ad blocker rule(s) and the page will load as expected.