You may be looking for the character: Cai Wu Xiong.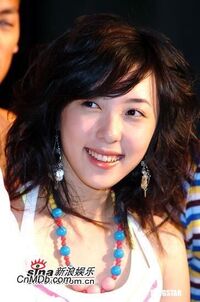 Name: 蔡宜臻 / Cai Yi Zhen
Also known as: 五熊 / Wu Xiong
Profession: Actress and singer
Birthdate: 1987-Aug-23
Birthplace: Taiwan
Height: 164cm
Weight: 47kg
Star sign: Virgo
Chinese zodiac: Rabbit
Family: Older sister Cai Han Cen
Talent agency: Comic International Productions Co., Ltd. 可米製作
Biography
Edit
Cai Yi Zhen is the actress who portrayed Cai Wu Xiong in KO One and Xiao Qiao in K.O.3an Guo.
Her older sister, Cai Han Cen, played the roles of Cai Yun Han in KO One, Han in The X-Family. and Da Qiao in K.O.3an Guo.
Production
Edit
Filmography
Edit
Year
Television show
Character
2010
Love Buffet
Female Diner
Death Girl (死神少女)
Ya Zhen
The M Riders (萌學園之萌騎士傳奇)

Wu La La(烏拉拉)

2009
K.O.3an Guo (終極三國)
Xiao Qiao (小喬)
2008
Mysterious Incredible Terminator (霹靂MIT)
Xu Wan Xin (許萬欣)
2007
They Kiss Again (惡作劇2吻)
Luo Zhi Yi (羅智儀)
Summer x Summer (熱情仲夏)
Xia Ya (夏芽)
2006
Tokyo Juliet (東方茱麗葉)
裴美子
2005
KO One (終極一班)
Cai Wu Xiong (蔡五熊)
2004
I Love My Wife (安室愛美惠)
謝瑜菮
My Puppy Lover (我的寵物老公)
Student
Theme songs
Edit
Heaven, They Kiss Again with Cai Han Cen
Qin Xia Tian Yi Xia, Summer x Summer with Joe Cheng
Ad blocker interference detected!
Wikia is a free-to-use site that makes money from advertising. We have a modified experience for viewers using ad blockers

Wikia is not accessible if you've made further modifications. Remove the custom ad blocker rule(s) and the page will load as expected.