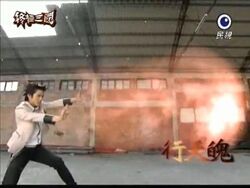 Chinese: 行天功
Pronunciation: Xing Tian Gong
Xing Tian Gong is a powerful kung fu technique handed down by Guan Yu's family, it consists of three attacks which come very effective when the user utilizes all three attacks together.
Because their names are similar, it was confusing for Guan Yu to understand when he first heard about the other two attacks from Zuo Ci.
The three attacks
Edit
Xing Tian Po (行天破)
Edit
Guan Yu's primary attack, used to produce offensive energy.
Should the user load it to full power before he releases it, whoever gets hit will explode to millions of pieces.
It can be used to neutralize the opponent's powers.
Xing Tian Po (行天迫)
Edit
This ability allows Guan Yu to move in super-speed, so fast that not even powerful power-users can see by the eye.
It can be used to repress the opponent, preventing him from attacking.
Xing Tian Po (行天魄)
Edit
The third and strongest attack of all three. It can be used to destroy the opponent's soul and powers altogether.
Ad blocker interference detected!
Wikia is a free-to-use site that makes money from advertising. We have a modified experience for viewers using ad blockers

Wikia is not accessible if you've made further modifications. Remove the custom ad blocker rule(s) and the page will load as expected.