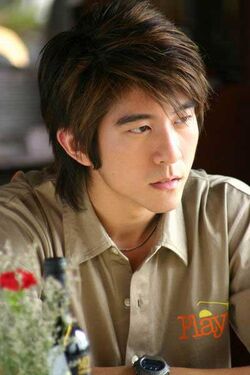 Xiu Jie Kai (Chinese: 修杰楷) portrays the role of Sun Quan in the third series: K.O.3an Guo.
Name: 修杰楷 / Shiou Jieh Kai (Xiu Jie Kai)
Birthdate: 1983-Mar-06
Birthplace: Taiwan
Height: 179 cm
Weight: 74 kg
Blood Type: O
Star Sign: Pisces
Filmography
Edit
Television Shows
Edit
2010
Fan Tuan Zhi Jia (Chinese: 飯糰之家)
2009
K.O.3an Guo (Chinese: 終極三國)
Easy Fortune Happy Life (Chinese: 福氣又安康)
Black & White (Chinese: 痞子英雄)
2008
Love Catcher (Chinese: 幸福捕手)
Pretty Ugly (Chinese: 原來我不帥)
2007
They Kiss Again (Chinese: 惡作劇2吻)
2006
The Hospital (Chinese: 白色巨塔)
2004
The Lover Who Can't Hear (Chinese: 聽不到的戀人)
Mars (Chinese: 戰神)
2003
2010
External Links
Edit
Ad blocker interference detected!
Wikia is a free-to-use site that makes money from advertising. We have a modified experience for viewers using ad blockers

Wikia is not accessible if you've made further modifications. Remove the custom ad blocker rule(s) and the page will load as expected.