Yellow Cow
(C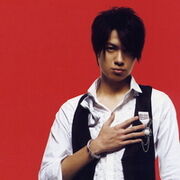 hinese: 黄牛, lit.
huang niu
), true named
Huang Shao Yu
(黃少谷), is the lead singer of the real life music band
Champion
. He is also the actor of
Zhou Yu
.
[1]
Real Name = 黃少谷 (Huang Shao Yu)
Date of Birth = 24 October 1989
Constellation = Scorpio
Blood Type = A
Height = 180 cm
Weight = 68 kg
Instruments = guitar, drums, keyboard
Interests = Food Identification
Favorite food = pork, steak
Favorite Movies = The Survival Game, Forrest Gump, Dancer in the dark
The first group of dates and names = Sucker 1999
Desire: to open the concert world tour LIVE
Favorite band or artists = Mayday , Luan , Wu Bai , U2 , Mr.Children , Shiina Ringo , Blue John Lennon , Ryoko Hirosue
Education = revival of Commerce and Industry, the U.S. engineering → ​​China Institute of Technology International Trade Division
He has the same blood type as the character that he played, which is A.
References
Edit
Ad blocker interference detected!
Wikia is a free-to-use site that makes money from advertising. We have a modified experience for viewers using ad blockers

Wikia is not accessible if you've made further modifications. Remove the custom ad blocker rule(s) and the page will load as expected.